The $1.2 billion hospital, funded as part of the Queensland Health and Hospitals Plan, will include:
main hospital building with a rooftop helipad
121 new beds, with more single rooms for patient privacy and comfort
a larger emergency department
acute services, including medical, surgical, intensive care, mental health, maternity, paediatric care and renal services
a larger range of outpatient and diagnostic services
more operating theatres and recovery spaces
clinical support spaces for medical imaging, pharmacy, sterile services, outpatients, mortuary and pathology
teaching, training and research spaces.
Queensland Government is managing the development assessment process. Find out more about this process and Ministerial Infrastructure Designations on the Queensland Government Planning website.
In July 2023, Queensland Health announced that CPB Contractors will be the managing contractor for stage one of the project, responsible for completing the detailed design. CPB must deliver a value for money guaranteed price for the project before main works construction begins in stage two.
Timeline
Start date: December 2022, early works began
Main construction starts: 2024
Finish date: Late 2027, weather and building conditions permitting
Site plans and layout
The new hospital will be located near Bundaberg Ring Road and Kay McDuff Drive.
Master plans [PDF 2222.32 KB] for the site show the layout of buildings, parking areas and drop off or pick up points. We've also thought about how we can expand our new hospital in the long-term future.
The concept plan [PDF 1092.2 KB] shows each level in the new hospital, and where to find each department or service.
You'll likely be able to use buses, ride-share, walkways and bike paths to get to hospital. We're looking at different ways to help people get there.
We want to make sure there's enough parking when you come to hospital. Queensland Health is looking at options as part of a separate project. Parking will be safe and affordable.
Why we chose the new site
The new hospital will be easy to get to. The site is about 5 km from the central business district and on high ground. Emergency services, the airport and an aeromedical base are nearby. The natural setting will help patients heal and recover.
There's enough room to expand the hospital in the future. We plan to create a health and education precinct as our community grows.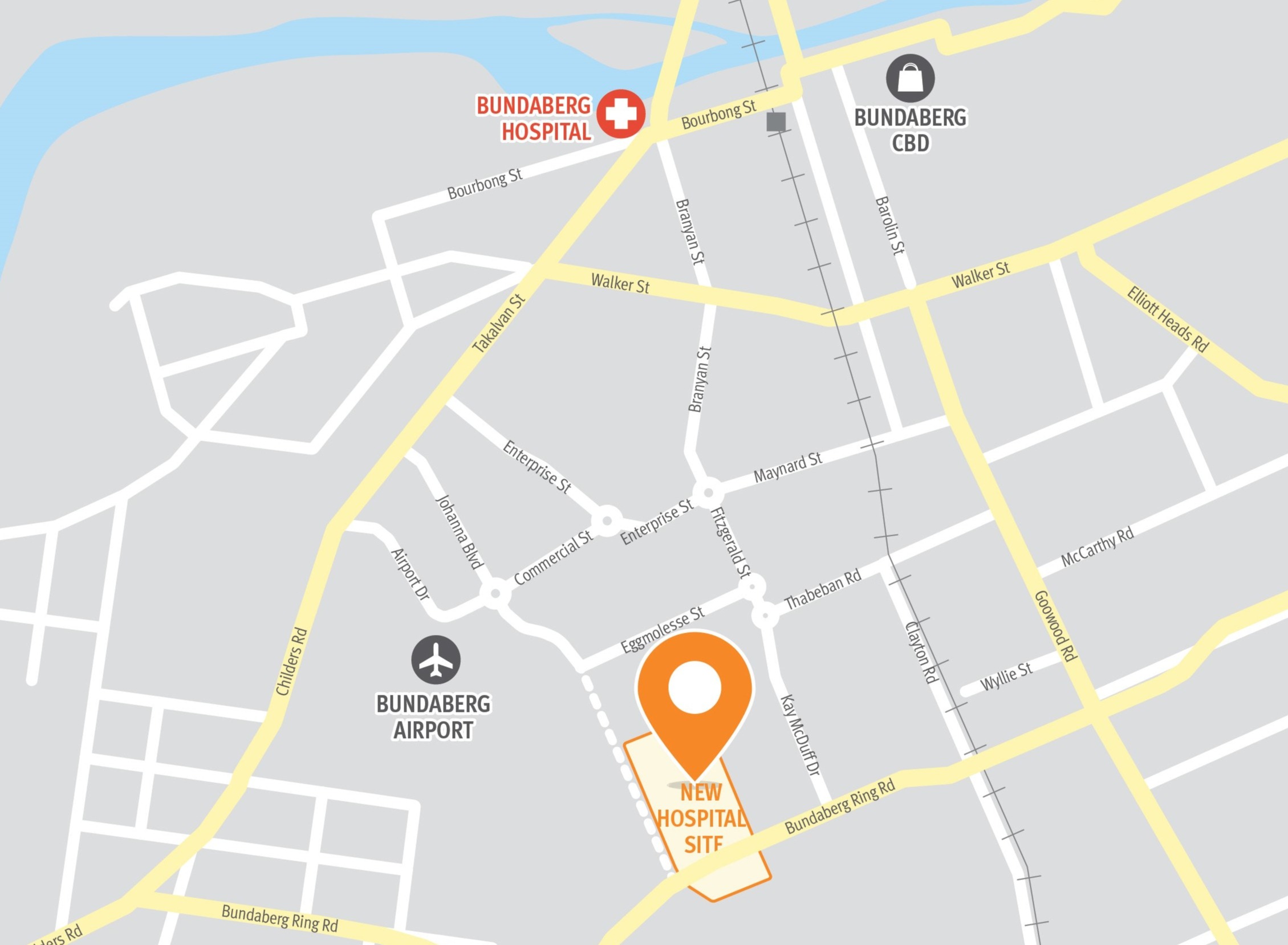 Jobs
The new hospital will create jobs for nursing and medical staff, allied health professionals, and a range of support staff. Find out more about careers at our hospitals.
Building the hospital will also create around 2,887 construction jobs and boost the local economy.
Plans for the old hospital
We'll still use parts of the old hospital for specialist appointments and day health services that aren't urgent. Our oral health and cancer care patients can continue to see us at our centre on Hope Street. All acute and overnight services will move to the new hospital.
Connect with us
Register your interest to find out more about the new hospital and get project updates.
To tell us what you think or ask a question, send an email to wbhhs-newhospital@health.qld.gov.au. You can also call 07 4303 8540 or send mail by post to:

New Bundaberg Hospital project team
Bundaberg Hospital
PO Box 34
Bundaberg Qld 4670.
The Queensland Government has announced CPB Contractors as managing contractor for stage one of the new $1.2 billion Bundaberg Hospital.

We're calling for nominations from patients, carers and health consumers to be involved in planning and design activities for the New Bundaberg Hospital.

Early works on the $1.2 billion New Bundaberg Hospital site have now started.